TETBURY SHOPS

A Cool Guide to Discover the Best Places to Eat, Drink, & Shop
Posted on December 05 2018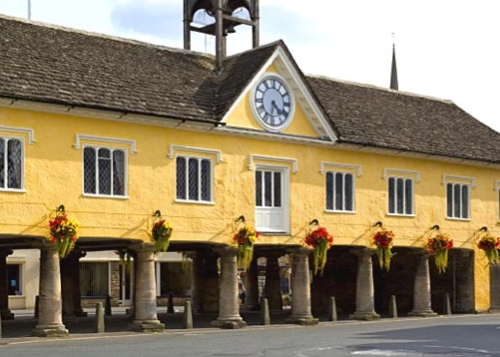 Take a Look at the Shops in Tetbury
Packed with fashion boutiques, interior design stores and trendy cafes, Tetbury defines whats cool now. From a Louis XVI Giltwood Mirror to an Early Rajastani Teak Dowery Chest, you'll find it here. Explore the medieval town, browse through the unique shops and remember, behind you in the queue at the checkout, there might just be Kate Moss, Lily Allen or even HRH Prince Charles, who all live close to the town and are regular visitors.
Indeed, the Prince of Wales doesn't just live locally, he also runs his own shop in the town called Highgrove after his private residence Highgrove House, which is just two miles from the town centre. The shop sells specially selected items that Prince Charles has been introduced to through his travels, including an exceptional Lebanese hand made soap.
At the heart of the town is the very impressive medieval Market House, which stands on stone pillars and still to this day hosts regular markets underneath the great hall, just as it did when it was first build in 1655. Shopping in Tetbury is a wonderful experience as nearly all of the shops are independent brands that offer individual and unique pieces.
Taylor Black, a small exclusive jewellery shop set in a Georgian townhouse, is where designer Phillipa Taylor, who trained in London's historic Jewellery Quarter, hand crafts all of her collection, which includes a range that was inspired by  Cotswolds based Giffords Circus.
Just behind the Market House is Bay Gallery Home, a studio shop which specialises in original Aboriginal Art from the Northern Territory of Australia. Gallery owner Alexandra O'Brien, originally from Australia, sources all of the works and is passionate about respecting, supporting and representing the Aboriginal communities.
Across the road, the international influence continues with Asian antique furniture and objects from Artique, a highly atmospheric shop which seemingly transports you, in a moment, to the back streets of Jodhpur, India. Owner George Bristow has spent most of his life seeking out the rare and unusual from India and Afghanistan, then bringing them back to Tetbury, to sell to customers to grace their homes.
Long Street, Tetbury is renowned internationally as a destination for interiors and decorative furniture, buyers travel from all over the world to source some of the finest antiques available. Lorfords, The Decorators Source and Brownrigg Interiors are some of the most well known, but in addition there are lots of smaller shops offering highly desirable pieces. Amy Perry Antiques offers a well edited interior collection, sometimes off-beat, but always with an intrinsic beauty that balances utility with grace. 
Continuing down Long Street, Antiqbr has recently opened in Tetbury, owned by Cuca Riera and Pep Boixader from Madrid, they bring with them a very cool continental style, specialising in contemporary and heritage pieces of XVIII and XIX century, sourced from Sweden, France and Italy.
Another new shop, which has just relocated from St James Park London, is Emily's House London, offering a superb range of Morrocan Rag rugs, Beni Quarain rugs, vintage Kilims and many other types all made by craftsmen, from Berber women to Turkish nomads. The collection is sourced from the Far East and Africa by owner Katrien Vermeeren and each and every piece carries its own unique and inspiring story.
Exploring these showrooms can be thirsty work, so take a break in one of the many busy cafes along the way. The Blue Zucchini, on Church Street, is owned by Peter and Pernilla Corbett who have created a very up-beat bistro, with graffitti on the walls and lively music, a great vibe for all ages, fun and edgy with homemade cakes.
At the other end of town, towards the bottom of Long Street is Cafe 53, an industrial, contemporary styled cafe, which is very popular and known for its Full English breakfasts and great coffee. The cafe is adjacent to its sister shop Domestic Science, a three storey haven of gifts and interiors, with a retro kitsch theme.
Fashion and trends feature a lot in Tetbury, so much so that the town has established a signature style, a synergy that translates through interiors into clothing and is often referred to as 'The Tetbury Look'. This is most evident in the twelve boutiques and clothes shops in the town, which includes most notably OVERIDER (of course) Anna Lizzio and Moloh.
Moloh, a well known brand in the equestrian world, specialises in women's military styling, with a quintessential English eccentricity described by VOGUE magazine as 'le style Anglais', all the clothes are made in England using the finest tweeds and cloths. Designed by owner Caroline Smiley the range includes tailored jackets and coats, silk blouses and bench-made footwear. Kate Middleton, now The Duchess of Cambridge is just one of their valued customers.
Also noted by VOGUE magazine as one of the UK's Best Fashion Boutiques is Anna Lizzio, an independent clothes and homeware shop. Originally launched by Jane Joynson, the shop is now run by her daughter Anna, whom the shop is named after. Sophisticated colourful patterns feature strongly in her carefully edited collection, sourced from some of the leading brands from around the world. Having recently moved to a larger shop, Anna now offers a coveted range of homeware, which continues the idiosyncratic theme of the clothing range.
OVERIDER is situated in the centre of Tetbury, with its edgy fashion window displays providing a distinctive juxtaposition to the surrounding historic buildings. The interior of the shop reflects the OVERIDER brands bohemian, free spirit, rock chic signature look, an effortless style, biker/jeans/T-shirt, which takes influence from the street fashions of Paris, London and Milan, producing a collection that is clean, cool, sexy and easily wearable - from the paddock to the party, you only need to kick off your wellies!
OVERIDER has been based in Tetbury since 2003 and now offers the entire collection online at their eshop - overider.com
Shop Website Directory - Click on name to visit website
Enjoy Tetbury x