Lauren Lovatt
Posted on October 20 2017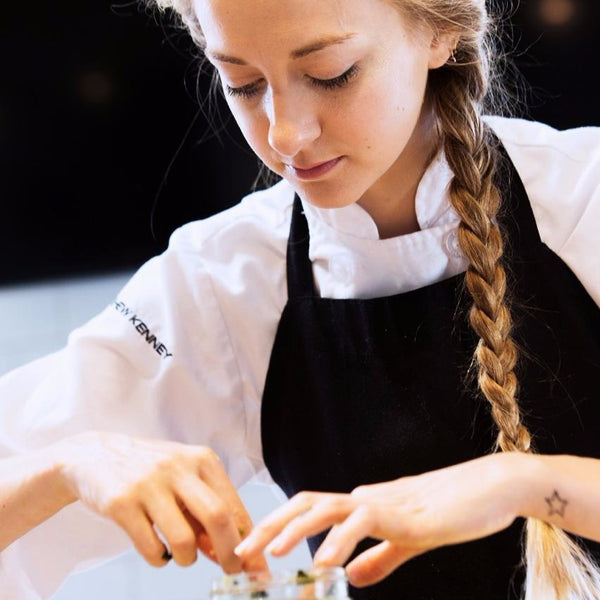 Lauren Lovatt is a professional plant based chef currently studying at the PlantLab. Lauren specialises in raw desserts, couture catering and bespoke private dining. Using seasonal plants, whole grains, healthy fats and sprinkles of superfoods she creates a balance of recipes for a healthy mind lifestyle. The foods she uses are delicious, satisfying and offer optimum nutrition. 
We asked Lauren some questions.....
Simple or intricate? more or less?
Simple and less - although everything needs an extra sparkle, whether it's superfood or glitter.  
I like the saying that applies to clothes, life and food -  
"always take off the last thing you put on" - Coco Chanel 
Guilty pleasure? 
Instagram If you follow me it may go without saying I love it. I wish i didn't feel the need to document, but i love it at the same time. 
 
Whats the best advice you've ever been given? 
Embrace and believe 
 
In 5 words describe your food? 
Natural. Delicious. Plant based. Elevated. Art 
 
Can't live without? 
Would raw cacao be too obvious? 

What advice would you give someone wanting to cook professionally or just for fun? 
Generally in the kitchen be creative, there are no rules. So, be free to enjoy it. 
Being a professional is another level. I think it's important to learn from people you admire and maintain your passion. 
 
What do you love about making your beautiful food? 
The creativity. I studied art at Oxford Brooks, then fashion design at Northumbria. So, i really enjoy making things and its so important for me to have a creative output. 

My favourite thing is dreaming up a delicious dish. Like a piece of art you start with an idea and a spark of inspiration from far and wide. Then designing  the plate - I may look at other chefs or styles of putting things together. Of course the highlight is to then serve and share these creations with people - showing how such nourishing ingredients can look mesmerising, taste good and do you good. 
 
What is the next step in your career?  
At the moment I'm freelancing in London working closely with David Bez and Pride Kitchen - who I adore. I also have some Pop-Up evenings coming up and will be doing a Yoga Brunch in Bristol with the Yoga Brunch Club on November 12th. 
http://www.yogabrunchclub.com/tickets/yoga-brunch-club-lauren-lovatt-bristol-theforge 

Long term I'll be going back to Barcelona to Teach With PlantLab - the worlds premier Plant based culinary academy. Whilst also putting dreams into action inspiring people to connect nutrition and mental health - making a healthy lifestyle even more accessible. 
 
What made you want to cook professionally, have you always loved it? 
I've always been very passionate about food and cooking. when I was at school I remember cooking three course dinners, trying to do chocolate soufflés for pudding and throwing dinner parties for friends making coq au vin and dauphinoise potatoes - way before the vegan days!!
 
I then went through some health issues at uni which pushed me towards learning more about the power of diet and nutrition and within a whirlwind of events as soon as I completed my degree I trained as a chef. 

Whats your favourite thing to make? 
I love to make desserts. Firstly, because they are insanely satisfying and delicious. Secondly, because i feel like if you are introducing people to plant based, vegan and especially raw food - these raw cakes beat a traditional cake hands down.
  
Experiencing your first intense chocolate cheesecake, caramel ice-cream sundae or a warm raw chocolate Churro dipped in chocolate sauce could not be more exciting….and its good for you!!! 

 
Fav holiday destination?  
California is my Place. I've been training in Venice Beach with the PlantLab for part of this year and I've never felt more at home. Great people dynamic experiences, the most insane plant based goodness and being close to the beach was an absolute dreamland for me. 
 
You specialise in Plant based foods, what made you want to go down that path?  
So, I mentioned I went through some health stuff. As i started to get better my body was very delicate i realised I was intolerant to gluten and dairy. I wanted to learn how to enjoy food again and strip it all back. Enjoying things that actually had a benefit and you can feel the difference. 

A plant based lifestyle was a whole new thing for me. one that had no barriers or negative connotations. it seemed fresh and exciting with a whole exiting new toolbox ingredients it was like learning a whole new language. 
 
You speak quite openly about mental health issues, how has the food you produced helped you?  
I lost my first boyfriend when i was 19 due to Bipolar which led me to spiral out of control. I had a concoction of eating disorders, it was a really rocky time in my life. My love for food turned into an obsession but then I'm very thankful that the things I learnt about diet and nutrition helped me turn my life back around.
 
Food helped me in two ways 
1. Finding a passion and being able to have a creative outlet that has always been my absolute dream. A passion for plants and their diversity has been so helpful - learning to look after myself, make it beautiful, and now help other people had helped me find my purpose and ultimately want to turn it around.
2. Understanding more about foods that can calm your mind or stimulate it, was really helpful. I've learnt how to help my mind - whether it's anxious or hyperactive with balancing nourishing foods. When i was trying to get better I knew to build myself up I needed to focus on healthy fats, omegas and good protein. 

It's so important to have a healthy relationship with food and I'm more and more interested in the benefits and superfoods. there are things that can literally alter your brain power and seriously support you. 

What advice would you give to other people in the same boat, about what foods can help them? 
Attitude and talking comes first, it's then passion with a reason to get better and the last thing is the actual food. I can only speak from my point of view and this experience is very unique to me. I think when it comes to mental health in my specific situation the actual foods helped but the passion and love for something (which could be anything) was what really helped. I must say i did a lot of therapy and alternative therapies that were a huge help in my recover, but the tipping point was about finding a reason and purpose to live 

In general With Mind food its all about balance. It's important to enjoy things that aren't going to make your moods spike go up and down - also tuning in to what you need. 

It's key to know what you like and enjoy it but include amazing things that are actually going to do you good. Like i know if I'm feeling a bit out of whack a cacao avocado moose is very nourishing for me. I use fermented foods for a bit of inspiration and superfoods like Maca to open my mind. It's about having the right support to help you to tune in. 
 
You can follow Lauren on Instagram here: https://www.instagram.com/lauren_lovatt/
You may also like to read about the highly talented Chef Genevieve Frosch, specialising in private hire catering.